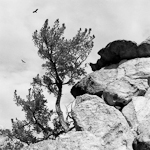 Having the soul of an artist, the mind of a mathematician, and the desire to explore wild places, Mark discovered he had an innate sense for recognizing the aesthetic qualities found within the patterns, shapes, and symmetry of nature. Mark's photography focuses on the inherent beauty of the natural world - some obvious, some seen everyday but not given a second thought, and some undetectable by the naked eye.
Influenced by the work of artists such as Ansel Adams, Bradford Washburn, and Galen Rowell, Mark began to experiment with photography in the early 90's as a means of documenting the grandeur he witnessed during his adventures. A selection of these photos can be seen in his Landscape, Travel, and Adventure Collection. After becoming procifient in the photographic process, Mark started to truly explore his own artistic vision, and found he was drawn to the world of macro photography.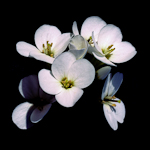 Initially guided by John Shaw's seminal book "Closeups in Nature", Mark began to experiment with various techniques and equipment in order to achieve the levels of magnification he desired without sacrificing the image quality he demanded. As time progressed, Mark modified equipment to suit his specific needs and developed techniques that allow him to manipulate natural light and use directed shadows and dark backgrounds in order to isolate and highlight his subjects without the use of Photoshop, thus maintaining what he views as photographic integrity. The ultimate result of his efforts can be seen in the lighting effects achieved in his Studio in the Field Collection, as well as the levels of magnification attained in his Photomicrography Collection.
Mark has traveled extensively, but feels fortunate to call Laramie, Wyoming home. When he's not working in his home studio, Mark finds artistic inspiration by exploring the nearby Medicine Bow Mountains, as well as many other areas throughout the American West.
Contact
Mark Mass
P.O. Box 1645
Laramie, WY 82073
email: mark@markmassphoto.com